Flying Lizard Motorsports Top in GTC at Road America; Holzer Grabs Fastest Porsche Position in GT for Paul Miller Racing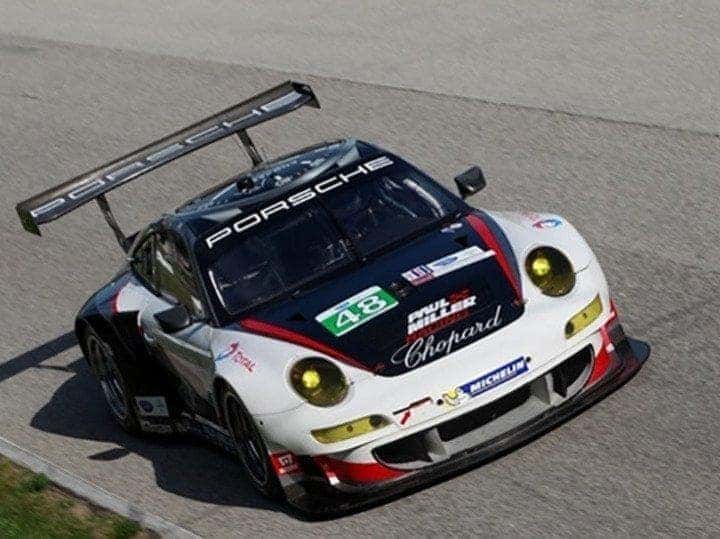 Elkhart Lake, Wisc. — Spencer Pumpelly, from Atlanta, Georgia, fired the first salvo in the battle for first place in the GTC point standings by putting the #45 Flying Lizard Motorsports Porsche 911 GT3 Cup on the pole for tomorrow's American Le Mans Series race at Road America.
Pumpelly and co-driver Nelson Canache, Jr., from Venezuela, are in a first place tie with the Alex Job Racing drivers Cooper MacNeil, Hinsdale, Ill., and Jeroen Bleekemolen, The Netherlands, and everything that both teams do from now until the end of the year could be significant for the championship.
"My co-driver Nelson has done a great job this weekend as has the Flying Lizard team, and our data yesterday showed us that he was outdriving me on certain parts of the course. The car was decent yesterday but I wasn't able to put a lap together. The changes the team made overnight were a huge improvement though, and today's lap was as good as could be across the board. I was also motivated to go faster on those corners that Nelson had topped me yesterday. I'm very proud of the team and the results we achieved today, and hopefully we can continue at the same level tomorrow," Pumpelly said.
Sean Edwards (Monaco) is in second position on the grid in the NGT Porsche, while Jan Heylen (Tampa, Fla.) is third in the JDX Porsche. The #22 Alex Job Porsche, qualified by Bleekemolen, reported that he was losing tire pressure near the end of qualifying and will start sixth.
Sixth in the points, but only seven points out of fourth, is the TRG Porsche of Damien Faulkner (Ireland) and Ben Keating (Port Lavaca, Tex.), qualifying fourth for tomorrow's event with Faulkner behind the wheel. They have yet to win a race this year, but they are ready this weekend.
"The GTC class is so competitive and we are right there with pace. The car continues to improve and I think I got the most out of the TRG Porsche. We hoped to qualify closer to the top, but Ben and I are ready to race for the win," said Faulkner.
In the GT, Marco Holzer (Germany) in the #48 Paul Miller Racing Porsche 911 GT3 RSR was the best qualifying Porsche, putting the car he shares with Bryce Miller (Summit, NJ) in fourth place. Patrick Long (Playa del Rey, Calif.) is seventh in the CORE autosport Porsche 911 GT3 RSR (co-driving with Tom Kimber-Smith, UK), while Bryan Sellers (Atlanta) was 10th in the Team Falken Tire Porsche 911 GT3 RSR (sharing the car with Wolf Henzler, Germany).
"We made some changes overnight, and the car was much improved for qualifying. We have a solid race strategy, and, although fourth place is not the best, our times are very close to second place. As I had the pole here last year, this is my favorite track in America – if I was going to build my own track, I would take many corners from Road America," said Holzer.
The American Le Mans Series Orion Energy Systems event will be broadcast live Sunday starting at 3:00 p.m. EDT and will broadcast live on ABC-TV and steaming live on ESPN3.com. Mobile device users can also watch live at the same time on ESPN3.com. Live scoring is available for all on-track sessions at http://livescoring.us, or http://livescoring.com/m for mobile devices.
Qualifying results
GT class (qualifying driver underlined)
#93 Jonathan Bomarito/Monterey, CA; Kuno Wittmer /Montreal, QC; SRT Motorsports Viper GTS-R – 2:03.410
#3 Jan Magnussen / Roskilde, Denmark; Antonio Garcia / Barcelona, Spain; Corvette C6 ZR1 – 2:04.212
#4 Oliver Gavin /Northhamptonshire, England; Tommy Milner / Leesburg, VA; Chevrolet Corvette C6 ZR1 – 2:04.277
#48 Bryce Miller/Summit, NJ; Marco Holzer/Bobingen, Germany; Paul Miller Racing Porsche 911 GT3 RSR – 2:04.237
#91 Mark Goossens/Geel, Belgium; Dominik Farnbacher/Ansbach, Germany; SRT Motorsports Viper GTS-R – 2:04.427
#55 Bill Auberlen/Redondo Beach, CA; Maxime Martin / Brussel, Belgium; BMW Z4 GTE – 2:04.609
#06 Patrick Long/ Playa del Rey, CA; Tom Kimber-Smith/Henley-on-Thames, UK, 2:04.619
#56 Dirk Müller/Tägerwilen, CH; Jonathan Edwards, Louisville, KY; BMW Z4 GTE – 2:04.630
#62 Matteo Malucelli (Italy); Olivier Beretta (Monaco), Feraari F458 Italia – 2:04.911
#17 Wolf Henzler/Nürtingen, Germany/Bryan Sellers / Atlanta, GA; Team Falken Tire Porsche 911 GT3 RSR – 2:06.088
#23 Townsend Bell, San Luis Obispo, Calif./Leh Keen/Charleston, SC.; Ferrari F458 Italia – qualifying disallowed – failed stall test
GTC – all Porsche 911 GT3 Cup cars (qualifying driver underlined)
#45 Nelson Canache Jr./Caracas, Venezuela; Spencer Pumpelly / Atlanta, GA; Flying Lizard Motorsports – 2:11.931
#30 Sean Edwards/Monte Carlo, Monaco; Henrique Cisneros, Miami, Fla., – 2:12.386
#11 Jan Heylen/Tampa, FL, Mike Hedlund/Woodside, CA, JDX Racing – 2:12.403
#66 Damien Faulkner/Mouille, IE, Ben Keating, Port Lavaca, TX, TRG – 2:12.489
#44 Seth Neiman/San Francisco, CA; Dion von Moltke/Coral Gables, FL; Flying Lizard Motorsports – 2:12.844
#22 Jeroen Bleekemolen/Monte Carlo, Monaco, Cooper MacNeil/Hindsdale, IL, Alex Job Racing – 2:12.989
#27 Patrick Dempsey/Malibu, CA; Andy Lally, Atlanta, GA; Dempsey Del Piero Racing – 2:13.047
#68 Jeff Courtney, Milwaukee, Wisc./Madison Snow, Lehi, Utah, TRG – 2:15.073