Park Place Leads Porsche Customer Teams in GRAND-AM Qualifying at Road America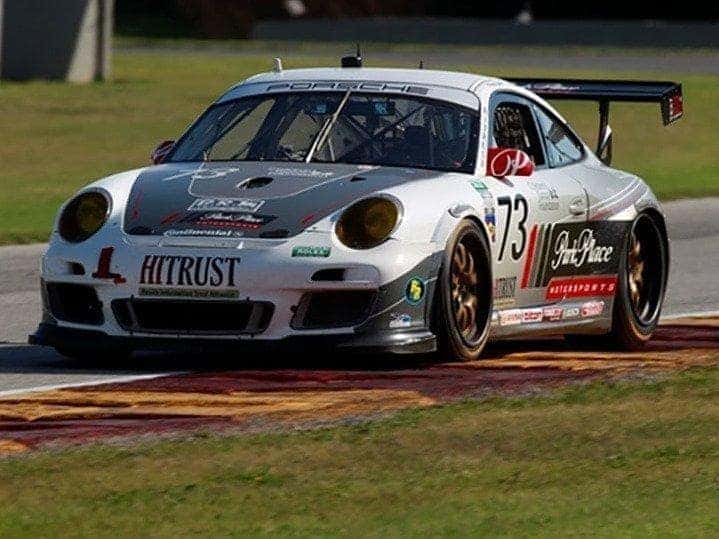 Shortened GT Qualifying Session Cuts Opportunities for Four Porsche 911 GT3 Cup Entries
Elkhart Lake, Wisc. Park Place Motorsports will start Saturday's VisitFlorida.com Sports Car 250 in third-place following an abbreviated qualifying session at Road America today. An accident involving two cars cut the 15-minute GRAND-AM Rolex Sports Car Series qualifying session short ending any late session opportunities for the four customer Porsche 911 GT3 Cup cars entered for the two-hour, 45-minute race to better their positions.
Patrick Lindsey (Santa Barbara, Calif.) turned up the speed early in the session and it paid off. His lap of two-minutes, 11.415-seconds was strong enough to make the No. 73 Park Place Porsche the quickest of the 911 GT3 Cup cars. Lindsey, who shares the car with factory driver Patrick Long (Playa del Rey, Calif.), will start third behind the pole-winning effort of Leh Keen in the No. 63 Scuderia Corsa Ferrari 458 whose lap of 2:11.183 was 0.181 seconds quicker than the Texas-based Porsche. The No. 94 Turner Motorsports BMW M3 driven by Paul Dalla Lana was second quickest in the qualifying session with a lap of 2:11.234.
"That was a good qualifying session for us but we only got one flyer before the red flag," said Lindsey. "The Park Place Porsche was really good. That was actually a conservative lap for me. We haven't been unloading great when we get to the track but the Park Place crew has been on it and they got us to the top of the time sheets again this weekend. Third is a good spot for us to start. We're just going to hit our marks tomorrow just like at Indy. We had a great shot to win that race before the shift linkage problem."
Behind the top-three, other teams were just beginning to stretch their legs when the accident occurred. John Potter (Salt Lake City, Utah) was finding the speed in the car when he turned a lap of 2:12.541 in the No. 44 Magnus Racing Porsche 911 GT3 Cup car. Potter will start fourth on the grid in the GT class point leading Magnus machine he shares with Andy Lally (Atlanta). He set the fifth quickest qualifying time but a post-session inspection found the fourth-place Chevrolet Camaro failed the ride height test and had its time disallowed.
Muehlner Motorsports America has brought two entries to the 4.048-mile, 14-turn race course. Leading the cause for the team is the No. 18 Porsche 911 GT3 Cup shared by Monaco's Jeroen Bleekemolen and Tim Bergmeister of Germany. Both drivers are Porsche experts. Bergmeister, who is making his racing comeback this weekend following a devastating May, 2012 accident at the Fuji Circuit in Japan, will grid sixth with a time of 2:12.735. The car had shown well in the morning practice session demonstrating that it had more speed than the limited qualifying effort allowed them to display.
The second Muehlner Motorsports America entry, the No. 19, shared by Bob Doyle (Killingworth, Conn.) and Grant Maiman of Neenah, Wisc. will start ninth. Maiman was on his out lap when the session was flagged which accounts for his lack of a time for the session.
The VisitFlorida.com Sports Car 250 can be seen on the SPEED TV beginning at 5:00 p.m. ET. Radio coverage is available on the MRN Radio Network.
Qualifying Results – GT Class
1. No. 63, Keen (USA), Ferrari 458, 2:11.183
2. No. 94, Dalla Lana (CAN), BMW M3, 2:11.234
3. No. 73, Lindsey (USA), Porsche 911 GT3 Cup, 2:11.415
4. No. 44, Potter (USA), Porsche 911 GT3 Cup, 2:12.541
5. No. 61, Wilden (CAN), Ferrari 458, 2:12.647
6. No. 18, Bergmeister (Germany), Porsche 911 GT3 Cup, 2:12.735
7. No. 93, Marsal (USA), BMW M3, 2:13.506
8. No. 69, Assentato (USA), Ferrari 458, 2:13.630
9. No. 64, Maiman (USA), Porsche 911 GT3 Cup, No Time
10. No. 31, Said (USA), Chevrolet Corvette, No Time
11. No. 46, Putman (USA), Audi R8, No Time
12. No. 64, Rudd (USA), Ferrari 458, No Time
13. No. 57, Edwards (USA), Chevrolet Camaro, Time Disallowed
###
About Porsche Motorsport North America
Porsche Motorsport North America (PMNA), located in Santa Ana, California, is a wholly owned subsidiary of Porsche AG and the sole sales and service provider for the German sports car maker's North American customer sports programs. Porsche is the largest manufacturer of race cars with a wide range of products from the 911 GT3 Cup car to the ultimate 911 GT3 RSR. PMNA sells these models to customer teams in North America and provides them with parts, service and expertise in between races and at the track. The PMNA service truck is a fixture at most race tracks in the U.S. and Canada, staffed by factory engineers to service all of Porsche's customer teams.
About Porsche Cars North America
Porsche Cars North America, Inc. (PCNA), based in Atlanta, Ga. is the exclusive U.S. importer of Porsche sports cars, the Cayenne SUV and Panamera sports sedan. Established in 1984, it is a wholly-owned subsidiary of Porsche AG, which is headquartered in Stuttgart, Germany, and employs approximately 220 people who provide parts, service, marketing and training for 189 dealers. They, in turn, work to provide Porsche customers with a best-in-class experience that is in keeping with the brand's 63-year history and leadership in the advancement of vehicle performance, safety and efficiency.
At the core of this success is Porsche's proud racing heritage that boasts some 30,000 motorsport wins to date.
Follow us: www.twitter.com/Porsche and www.facebook.com/Porsche and drive.porsche.com/us
For Porsche apps: http://www.porsche.com/usa/entertainment/apps/
Note: Photos and video footage are available to accredited journalists on the Porsche Press Database at http://press.porsche.com/
Andy Schupack
Motorsports PR
Phone +1.401.741.6980
as@kgpr.com
Dave Engelman
Media Relations Manager
Phone +1.770.290.3617
Dave.Engelman@porsche.us